2019 Schedule
December 7, 2016- Open Installation of
WORSHIPFUL GEORGE ANDREW MARTINEZ – MARYLAND
 Saturday, December 7,2019
Lodge opens at 10:00 am and will close by 12:00 noon. Lunch will follow closing of Lodge and then there will be an open installation of George Andrew Martinez. Arlington Centennial Glebe Lodge #81, 1 S. George Mason Dr., in Arlington, Va.
For those travelling, rooms are available at the Hilton Arlington Square (950 N Stafford St, Arlington, VA 22203) for $99+tax. Reservations can be made at 703.528.6000, referencing the Civil War Lodge of Research.
If you are in the area please join us for dinner Friday night (12/6) at 6:00 pm at Anthony's Restaurant (3000 Annandale Rd., Falls Church, Va.) (www.anthonysrestaurantva.com)
Saturday dinner (12/7) is at 5:00pm, Dog Fish Head Alehouse, 6220 Leesburg Pike, Falls Church, Va. (dogfishalehouse.com)
If you know that you will be attending one or both of the dinners, please email me so I can get an idea of a headcount: g.andrew.martinez@gmail.com
Our Civil War Lodge is one of my favorite families in all of Freemasonry – I truly look forward to every meeting and look forward to seeing you all in December.
LMIP's,                            
send a check ($640) PAYABLE to Grand Lodge of Virginia
To:
Bennett Hart
9638 Park Street
Manassas, Va 20110
scouterhart@comcast.net
Medals For Sale Stonewall Jackson Medal $10.00 Each 3 for $25.00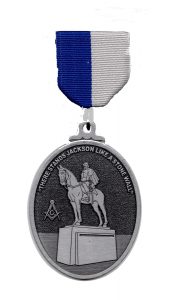 New Medals For Sale Stonewall Jackson Medal $10.00 Each 3 for $25.00